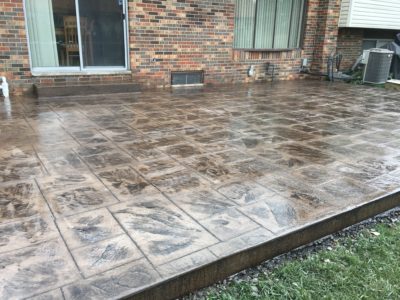 You have a lot of choices for your home's exterior hardscapes. When you are installing a new patio, driveway or sidewalk, the material choices can be overwhelming. From brick and stone pavers to concrete to wood, you have to select the best product for your home and for your budget. For your Sterling Heights home, we think that your best choice is stamped concrete. Here are a few great reasons why you should consider beautiful and durable stamped concrete for your hardscape project.
A Beautiful Variety
When you select stamped concrete for your Sterling Height home's hardscapes, you don't have to settle for just a few, boring choices. With designs and patterns that are as unique as your home and your personality, you are sure to find a design that is just perfect for your landscape. Today's stamped concrete can look like brick pavers, flagstone, or can have beautiful details like floral designs and patterns that give your concrete the look of elegant tile, or carved stone. You are no longer stuck with plain, boring grey concrete. The sky is the limit when you chose stamped concrete for your home's hardscape material.
Easy Installation
Think about how long it might take to install a brick paver patio. Each stone or brick has to be carefully set by hand, leveled and then grouted together. Now, think about how easy concrete is to install compared to that. Your stamped concrete hardscape is poured as a single slab and then decorated using stains and a stamped on a template. Yes, we do some work to prepare the area for your concrete hardscape, but when it comes to installation, we can have the work done in just a few days. This also means that your new hardscape is ready to enjoy sooner, and you don't have to have workers at your home for nearly as long.
Low Maintenance
If you are looking for a beautiful, yet easy to care for hardscape material, stamped concrete is perfect for your home in Sterling Heights. Poured as a single slab, your stamped concrete hardscape can handle the toughest of Michigan weather. You don't have to worry about the heaving or separating that occurs with brick or stone pavers. And you also don't have to worry about plants growing between joints. When winter comes, you can easily use shovels and your snow blower to clear away snow, and your stamped concrete surface won't pull up or come loose just from snow removal. In the summer, keep your surface clean with a broom or wash it down with a garden hose. No special care is required!
Cost Friendly
If you are installing a new hardscape and you need a budget-friendly material, stamped concrete is the perfect option. You can have a beautiful hardscape that looks like a million dollars, without spending a million dollars. There are two things that make concrete a more affordable landscape option: readily available materials and lower labor costs. For the most part, when you install a new hardscape for your home, the bulk of your cost will be labor. Because concrete is so quick and simple to install, the labor costs for your project will be lower and easier to fit in your budget.
Stamped concrete is the perfect choice for a beautiful, easy to maintain, easy to install hardscape for your Sterling Heights home. Whether you need a new driveway or want to upgrade your landscape with a beautiful new patio, Flat Rock Concrete has the perfect solution. Our experienced stamped concrete contractors will help you design and install a new concrete hardscape that will last for years. To learn more about our stamped concrete services in the Sterling Heights area or to schedule a FREE Stamped Concrete estimate, please call us at (248) 379-0250 or (586) 726-6091.