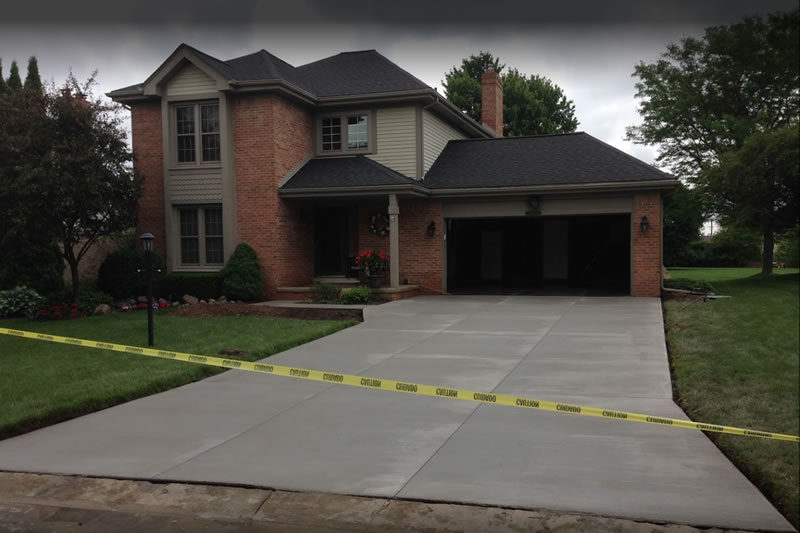 Concrete driveways in Shelby Township, Michigan, are becoming more than a trend; they're an investment. At Flat Rock Concrete Construction's lead, here's why this trend is taking off:
Strength and Durability: Michigan weather can be unpredictable, but concrete driveways are up for the challenge of withstanding all four seasons – from scorching sun to freezing snow! They were designed to withstand anything Michigan throws their way.
Local Expertise: Flat Rock Concrete Constructlocal expertise extends far beyond Shelby Township; our understanding of local laws and preferences helps every driveway we create perfectly meet the demands of Shelby Township's unique lifestyle.
Customizable Options: Who says driveways have to be boring? With endless colors, textures, and designs available to them, a concrete driveway can reflect its surroundings while remaining timeless in appearance.
Economical and Eco-Friendly: Selecting a concrete driveway is more than aesthetic consideration; it should also make economic and ecological sense. Flat Rock Concrete Construction stands by our commitment to sustainable practices that benefit you and the earth.
Trustworthy and Reliable: At Flat Rock Concrete Construction, it's more than just building driveways – they believe in creating relationships. So whether it be advice, questions, or an informal discussion about what might be possible, they are always on hand to assist.
Concrete driveways have quickly become the go-to solution in Shelby Township for new installations and refurbishment of existing ones. Offering strength, style, and local expertise – Flat Rock Concrete Construction transforms ordinary driveways into extraordinary ones! Keep reading to discover why concrete is the intelligent choice in Shelby Township.
I am so happy I went with Flatrock Concrete for my new driveway and walkway up the side of my house. Removed old brick pavers and replaced with concrete walkway. Kent and his entire crew were very professional, always on time, and did an amazing job from start to finish. Driveway looks amazing. Workmanship is outstanding. I couldn't be happier. Hard to find companies like Flatrock anymore. I would highly recommend them. They also cleaned up everything after my driveway was cut (also excellent job). Even power washed the whole street. Nothing out of place when they left! Thank you Flatrock Concrete! You guys were great!

A. H.
Types and Customization: Unleashing Creativity with Concrete Driveways
Flat Rock Concrete Construction of Shelby Township offers custom concrete driveway designs to meet every home or business's needs, offering endless customization opportunities. Take a peek into what awaits:
Traditional Concrete Driveways: Don't let traditional be interpreted as boring! Even the most straightforward concrete driveway can be made uniquely special by adding expert finishing touches. They're great options for durability and practicality!
Stamped Concrete Driveways: Looking to add some elegance? Stamped concrete drives provide an exquisite patterned effect that mimics brick, slate, or even wood surfaces for a beautiful curbside appeal. Stamped substantial campaigns bring art right to your doorstep!
Colored Concrete Driveways: Add some vibrancy and excitement to your life! By expanding beyond gray hues, colored driveways allow you to choose shades that complement your home's exterior and personal tastes.
Exposed Aggregate Driveways: For an elegant yet contemporary appearance, exposing aggregates within concrete provides a textured finish that's eye-catching and slip-resistant – offering beauty with practical application.
Eco-Friendly Solutions: If the environment is of paramount concern to you, Flat Rock Concrete Construction offers sustainable options that won't compromise style. Making responsible choices that still look fantastic is our goal!
Flat Rock Concrete Construction's personalized designs can make any idea come to life, from adding logos or particular motifs to transforming your driveway into an expression of yourself or your brand.
What makes these options particularly alluring is their adaptability; each can be mixed and matched to create your ideal combination. It all boils down to understanding and translating your desires into tangible realities.
Flat Rock Concrete Construction makes selecting a concrete driveway in Shelby Township an exciting creative journey. Whether it be classic looks or bold artistic statements – with their vast range of products, they ensure no two driveways look alike! Don't settle for the ordinary when the extraordinary is available.
The Installation Process: A Seamless Experience with Flat Rock Concrete Construction
Establishing a new concrete driveway project in Shelby Township doesn't need to be stressful or complex, thanks to Flat Rock Concrete Construction's hassle-free installation process. Here is what to expect:
Consultation and Planning: Every successful project starts with dialogue. You will discuss your needs, preferences, and budget with the Flat Rock Concrete Construction team to develop customized designs tailored to you and your vision.
Site Prep: Proper site prep is critical to building a successful driveway. This process includes clearing away existing materials, leveling the terrain, and ensuring proper drainage – with meticulous care taken throughout each preparation stage; your site is readied for construction.
Quality Materials and Techniques: Flat Rock Concrete Construction uses only top-quality materials and industry-leading techniques to guarantee that your driveway will stand the test of time. Their team carefully selects the appropriate mix and method depending on your requirements.
Professional Installation: Trained and experienced professionals handle the installation. From traditional, stamped, colored, or any combination thereof – their craftsmanship guarantees a stunning look that enhances the property.
Inspection and Approval: At our core lies customer satisfaction. A careful examination is conducted upon completion to make sure the driveway meets your standards, and any adjustments necessary can be made as needed for optimal performance.
Aftercare and Support: Flat Rock Concrete Construction's relationship doesn't end when we install your driveway; they guide maintaining it while being available for any follow-up questions or assistance that arise.
Transparent Pricing: With transparent and honest pricing, there won't be any unpleasant surprises when it comes time to pay. With options explicitly tailored towards meeting different budget requirements, everyone knows exactly what they're paying for and can plan their payments accordingly.
Flat Rock Concrete Construction makes installing a concrete driveway in Shelby Township simple. From initial consultation to inspection and beyond, we aim to create an enjoyable experience that satisfies our clients.
Your driveway is more than a functional space – it's an investment in both value and appearance of your property. By choosing Flat Rock Concrete Construction as your partner, you're working with a team who understands this fully, committed to excellence at every turn.
I can not say enough about the quality of work and professionalism of Kent Moore and his crew. The driveway replacement of an original from the 1920s is fantastic. Thank you Flat Rock Concrete.

N. M. 
Maintenance and Care: Keeping Your Concrete Driveways in Shelby Township in Top Shape
Maintaining and caring for a beautiful concrete driveway in Shelby Township can be more straightforward when guided and assisted by Flat Rock Concrete Construction. Here is some essential advice about the maintenance and care of concrete driveways:
Regular Cleaning: Simple sweeps or rinses will do wonders to maintain a beautiful driveway, while mild detergent mixed with a brush may do the trick to tackle stubborn stains. Scheduling regular cleaning helps avoid buildup while upholding its appearance.
Sealing and Protection: Sealants can protect your concrete driveway against weather and wear. Flat Rock Concrete Construction can recommend the appropriate sealants to meet the unique needs of each driveway.
Avoid Harmful Chemicals: De-icing salts can damage concrete over time, so Flat Rock Concrete Construction offers alternative solutions and tips to protect your driveway during Michigan winters.
Immediate Repair: Flat Rock Concrete Construction understands the importance of prompt repairs when cracks or other damages occur, addressing minor issues quickly so they do not snowball into more significant problems.
Seasonal Maintenance: Different seasons require unique approaches to care. From summer heat to winter chill, Flat Rock Concrete Construction offers guidance for seasonal maintenance tailored specifically for Shelby Township's climate.
Professional Inspection: Inspections by professionals can ensure your driveway remains in top shape. At Flat Rock Concrete Construction, our inspection services include comprehensive assessments to detect any potential issues with your driveway.
Long-Term Benefits: Engaging in regular maintenance helps not only maintain an attractive driveway but can also extend its longevity and add to the value of your property. Treat it like an investment that pays dividends with proper attention!
Flat Rock Concrete Construction makes maintenance straightforward: professional support, clear guidance, and tailored care plans ensure that your concrete driveway remains a source of pride and practicality.
Shelby Township concrete driveways provide more than just a park place: they add aesthetic appeal and financial value to your property. When properly maintained by Flat Rock Concrete Construction, your driveway will continue to impress year after year.
Sustainability and Environmental Considerations: The Green Choice in Concrete Driveways
Sustainable choices have become increasingly important in today's world, and installing concrete driveways with care and consideration is one way to do just that. Here is how Flat Rock Concrete Construction in Shelby Township makes concrete driveways green choices:
Recycled Materials: Flat Rock Concrete Construction often utilizes recycled aggregates and materials in its concrete mix, helping reduce waste while supporting circular economies without compromising quality.
Energy Efficiency: Flat Rock Concrete Construction makes its production and installation of driveways energy-efficient by using local materials and optimizing transport logistics to minimize energy consumption.
Durability Equals Sustainability: A well-built concrete driveway will last decades with minimal replacement or repair needs, conserving resources while creating long-term value and sustainability. It is an investment with lasting dividends for all parties involved.
Permeable Driveways: Permeable concrete driveways allow rainwater to pass through freely, reducing runoff and replenishing groundwater supplies – making them an excellent option for water management and protecting local ecosystems.
Heat Reflection: Lighter concrete surfaces reflect more sunlight, helping reduce urban areas' heat island effect and keeping driveways cooler while contributing to local climate control. This benefits both your driveway and surrounding neighborhoods alike.
Responsible Construction Practices: Flat Rock Concrete Construction is committed to conducting eco-friendly practices that minimize waste, reduce pollution, and follow the best environmental standards.
Education and Choices: Flat Rock Concrete Construction understands the value of transparency, offering clear information regarding eco-friendly options that allow you to make choices that align with your environmental priorities. We aim to give each of our customer's access to this valuable knowledge for making informed decisions that match their personal ecological beliefs.
Concrete driveways in Shelby Township don't need to be an either/or proposition regarding style and sustainability – with Flat Rock Concrete Construction, you don't have to choose one or the other – you can have both! By considering all aspects of its impact and making conscious decisions, your driveway can become an eye-catching addition to your property and an environmental asset for our planet.
With the right partner in Shelby Township, your driveway becomes more than a functional space; it symbolizes your commitment to sustainability. Flat Rock Concrete Construction excels at turning concrete driveways into green paths for a better future.
I would highly recommend Flat Rock Concrete. They were prompt with estimate, scheduling, and installation. Did what they said they were going to do, did it very well, and did it at a very competitive price. Very professional. If I could give Kent and his crew a sixth star, I would.

K.S.
The Concrete Driveway Journey with Flat Rock Concrete Construction: From Consultation to Completion
Flat Rock Concrete Construction understands that selecting a concrete driveway is a significant decision and strives to ensure every step is easy and hassle-free for our Shelby Township clients. Here's an overview of what happens during our driveway journey together:
Initial Consultation: Our free initial consultation entails learning about your needs, preferences, budget, and specifics of your property to create a driveway that embodies your vision.
Customized Design: Our expert team crafts a personalized design for your concrete driveway based on your input. From traditional to stamped or intricate options – there's sure to be something here that meets every taste and budget!
Precise Quotation: At Our company, we pride ourselves on providing an honest and transparent quote with no hidden fees or expenses.
Permitting and Compliance: Our experts take care in securing all required permits, as well as complying fully with local Shelby Township regulations and codes. No need to stress over paperwork – leave that up to us!
Preparation and Groundwork: Our team can take care of every step, from excavating to setting the perfect foundation, from excavator services to setting up quality groundwork – an essential step for creating long-lasting driveways.
Professional Installation: Our knowledgeable crew completes installation using only premium-grade materials and cutting-edge equipment to bring your driveway vision to fruition under expert hands.
Finishing Touches: Attention to detail in the finishing phase ensures your driveway looks perfect. From stamping, texturing, or sealing services – we put the excellent finishing touches on every driveway project.
Final Inspection and Approval: After completing our work, we conduct a rigorous final inspection and request your approval before considering our work complete. Your satisfaction is paramount to us – until then, no job has been deemed complete!
Aftercare Support: Our relationship does not end after the installation; instead, we provide aftercare support and maintenance tips and are always here for follow-up needs.
An Everlasting Driveway: With a beautifully crafted and expertly installed concrete driveway, you will enjoy years of helpful service from your property's new feature.
Flat Rock Concrete Construction makes the journey to a new concrete driveway in Shelby Township smooth and satisfying, from conception to realization of your vision in tangible form. Our dedication, experience, and customer-service focus make us the go-to experts in Shelby Township.
Your Dream Concrete Driveway Awaits in Shelby Township, Michigan
Concrete driveways offer more than just functional space; they're an opportunity to enhance your property's beauty and value. From traditional elegance to contemporary flair, sustainable design to durability – concrete driveways present endless possibilities.
Flat Rock Concrete Construction strives to turn your vision of a concrete driveway in Shelby Township, Michigan, into reality through our combined knowledge and craftsmanship. We take great pride in doing just that for every one of our clients – as evidenced by their reviews!
Custom Designed Driveways: Custom-designed driveways to meet the preferences and needs of our clients.
Quality Workmanship: Assuring long-term durability with beautiful results.
Environmentally Sustainable Options: Offering sustainable options to those interested in being eco-friendly.
Satisfied Customers: Fostering relationships through trust and exceptional service.
Smooth, Transparent Processes: Leading you from consultation through completion with clarity and support.
Your dream driveway can be just a phone call away in Shelby Township! Flat Rock Concrete Construction can help make it happen from concept to completion – whether new construction or renovation! We have you covered no matter the project.
Flat Rock Concrete Construction in Shelby Township, Michigan, can help your dreams of having the perfect concrete driveway become a reality! Contact 586-726-6091 to arrange your FREE Estimate and see what can be accomplished together!
---
Additional Resources