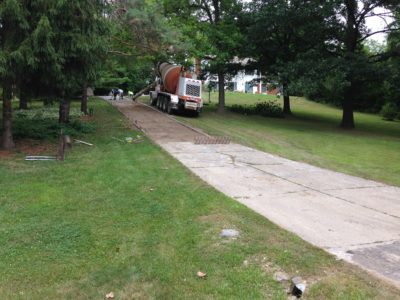 Concrete is an amazing product for hardscapes. It is durable, looks great, comes in a wide variety of colors and can be stamped and textured. However, just like all hardscape materials, it will eventually need to be replaced. Concrete can last a long time, but when it starts to go bad, you will want to replace it as soon as possible. Here are some tell-tale signs that your home's concrete driveway in Washington Twp., MI needs to be replaced.
Cracking
Cracking is a common problem that develops in both concrete and asphalt surfaces. Cracks usually form over time and can be worsened by the standard chemicals found on your driveway, such as deicers, oil, salt and even gasoline. These chemicals can weaken your concrete driveway, making it more prone to cracks. Here in Michigan, where we get freezing temperatures and plenty of ice, cracks can easily expand from small to large thanks to the freeze-thaw patterns that we experience. If you are seeing cracks, especially large cracks in your driveway, it's time for a replacement. In some cases, cracks can be filled, but fillers will always be a different color than your existing driveway, which decreases your home's curb appeal.
Drainage Problems
If water isn't draining off of your driveway, there is a good chance that you have serious problems with the grading under your concrete. Pooling will cause a variety of problems with your concrete driveway and over time will create bigger and bigger issues that can lead to damages to not only your driveway but to your home's foundation and landscaping features. If you have started noticing that water is pooling on your driveway, now is a great time to install a new concrete driveway, before matters get worse.
Rough Looking
We know that the snow and cold of southeast Michigan winters can be tough on concrete driveways, but the sun can also cause damage to concrete as well. Ultra Violet rays from the sun can oxidize the surface of your concrete driveway and cause it to slowly break down. This gives your driveway surface a rough appearance. This oxidization combined with water and deicers can also cause the surface of your concrete driveway to crumble. If you are noticing a rough appearance, or you have spots in your driveway where the concrete has started to crumble, it's probably time for a new concrete driveway.
Age
Concrete isn't supposed to last forever. Most concrete driveways are meant to last between 15 and 20 years. If your concrete driveway is older than 15 to 20 years old, it just might be time to consider replacing your old, plain driveway with a beautiful, new concrete driveway. With so many options of colors, textures and decorative designs, a new concrete driveway will be a great first step to making your home's exterior look amazing.
I Want a Free Quote on Replacing My Concrete Driveway in the Washington Township Area!
Your driveway is an important part of your Washington Twp. home's curb appeal. If your driveway is looking less than amazing, and you are ready for a new concrete driveway, Flat Rock Construction can help. We are southeast Michigan's experts in concrete driveways. To schedule an estimate for a concrete driveway or to learn more about our services, please call us today at (248) 379-0250 or (586) 726-6091.